What are the best tips and tricks for hospitalist physicians for using Powerchart in Cerner EMR?
Initially, I did not like CERNER EMR that much at my first look. But, after using it I feel that it can be made to work efficiently like any other advanced EMR.
Here are some tips I am currently using that made me improve my efficiency tremendously while rounding as a daytime hospitalist. I also do UM work on CERNER and it is getting much better every day I use it.
First, double click the pin sign in the pic below [right upper corner] that will keep these tabs in place instead of disappearing.
The most commonly used tabs are marked with blue check mark in the above picture.
—–
If you want to see what medications patient received, you can go to E-Mar–>Right click on Gray bar as shown in pic below and choose Search Criteria if you want to choose specific date and time range. [Below 2 pictures]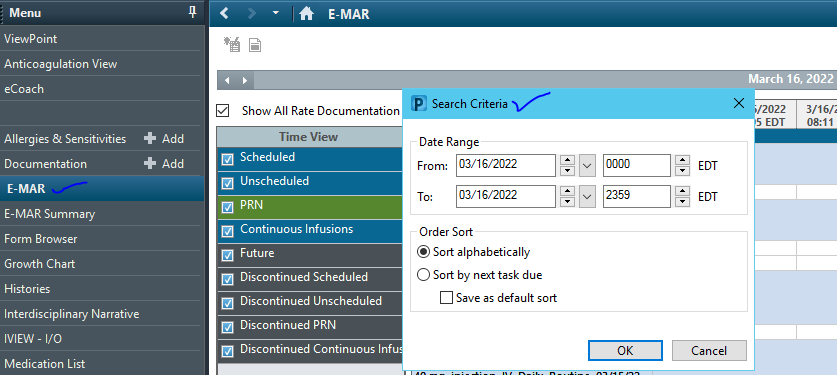 —–
Clicking on Form Browser can help you look at documentation from RN, Pharmacist, Pain Response Form, and many more that you may not see in Documents Section Internal Med Inpt Workflow.
—–
If you want to find CIWA scores, click on IVIEW-I/O—>ADL and Safety Measures and you can see them there. [pic below]
Same way, if you want to see Blood transfusions, click on IVIEW-I/O–>IV Infusions/Transfusions or I/O and you can see blood transfusions patient received.
If you are working as a physician advisor doing Utilization reviews, you might want to click on Patient Information tab to get patient's insurance information.
Results Review shows lab results in a clean format just like how we see in EPIC EMR. You can try this button if lab results are not clear under Labs button in Internal Med Inpatietn Workflow.
Outside Records button will allow us to access the records from other hospitals.
—–
Many a times, we need to change or modify the order mostly for medications. We can do it by clicking on Orders—>Medications–>click on the Medication you want to modify from the list.
—–
If you want to print the list, you can go to your list first and then click on View–>Consult Rounding, Team A [Your List] and then print. You can also try Printable Report and print if you like that format.
—–
Most important is how we arrange the buttons in the Internal Med Inpt Workflow. I arranged in the following order and for now, it has made me more efficient. Probably, I will change the order a few more times [may be] in future until I arrive at a perfect workflow to suit how I think while working. You would also do the same. Play around changing their order based on how you think/workflow.
—–
In the above Internal Med Inpt Workflow column, you can do Admission Medication Reconciliation by going to Home Medications—>Admission.
—–
Same way, it's also important to arrange the buttons under Discharge column. I arranged the following way.

In the above Discharge column, you can do discharge medication reconciliation by going to Medication Reconciliation–>Discharge.
—–
I put the New Order Entry first in both Internal Med Inpt Workflow and Discharge columns because I can access all my favorite orders easily by clicking on Inpatient + Mine.
The one good thing about CERNER EMR is that we can access anyone's favorite orders that were saved by looking up with their name. I searched my own name below, but you can pretty much search for anyone's favorites and make your own if you like theirs.
—–
You can also search for anyone's Autotexts and copy from them without having to ask them to share with you.
If you want to insert code for medications or labs into an autotext, you can search for the codes and add to your note via an autotext. Go to Autotext–> Manage Auto Text–>Click on + sign—>Search for whatever you want code for and click on the result that comes while typing in search area e.g. Active Inpatient Medications in dark blue color row below. Then the code appears as shown in below 3 pictures. Copy that code and make an autotext.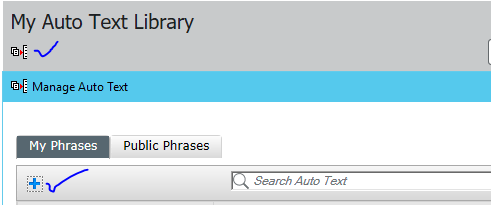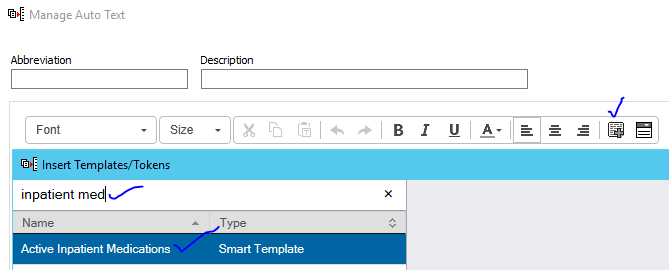 —–
Name Autotexts in a way that you easily remember. One trick you can use is name them after the blank spaces you have to fill. See examples below.

—–
Saving your Favorite Orders:
Below are my favorite orders that I saved. After I did this, I now feel that using this EMR is so much easy. Whenever you write an order, before signing, you can right-click on it and "Save to your favorites".
—–
You can organize favorite folder by clicking to the right of Favorites on the downward arrowhead, and choosing Organize Favorites.[below 2 pics]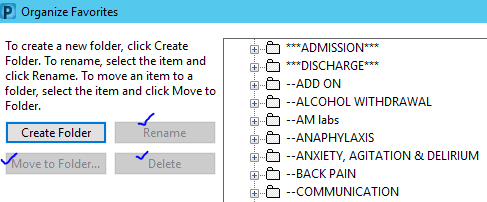 —–
Below is an example of how I added various commonly used orders for ANAPHYLAXIS. Similarly, you can save hundreds of orders to access easily when needed.
—–
Billing:
Below is the how we bill each day under Quick Orders – Inpatient.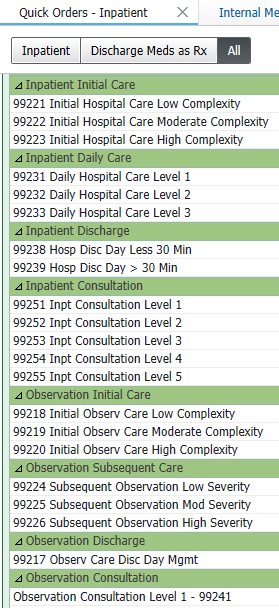 ED patients can be seen by clicking on ED Tracking. We can change or add patient's pharmacy by clicking on Patient Pharmacy.
—–
If you want to see a previous encounter for a patient, you can click on FIN# on the top of the screen in the middle. It will open up different encounters if patient was admitted previously. This is especially useful for physician advisors doing Utilization Reviews.
—–
Four items you may want to keep it on far-right side of the screen under Internal Med Inpt Workflow screen when you open a chart are shown in the following pic. This will make it easy for you to start the note writing for the day either for admission or progress notes easily. You can do that by clicking on the box below check mark in the pic.
Similarly, three items you may wish to keep on far right of the Discharge screen are shown below.
—–
If you want to strikethrough any wrong documentation, you can click on Modify on top of your opened document and then hover over the content of your documentation where you want to strikethrough like below. An X mark appears, click on it and sign the document.
—–
If you want all the low values for a patient, just search for "low". A list of all the lab values which were low will appear like below. Same way, you can search for "high".
---
I am sure there are hundreds of more tips and tricks to make CERNER EMR work for you to improve efficiency and it also depends what version you have in your hospital.
Visits: 3988