Here are some of the most commonly used orders used by hospitalists. I save them as my favorites so that it is very easy to order when I need to. They are arranged in alphabetical order. Of course, this is not comprehensive list medications. It is something that can help in improving efficiency. Some of these orders are hospital or health system specific. This is my attempt to help those who want to make their work easy by encouraging them to make favorite orders saved so that this might help on a very busy day. Most EMRs have their own order-sets but these are helpful to order if we need to repeat any of those orders. As we already know that the dosing is different for different patients and so we have to tweak the orders based on the situation and our experience to suit the patient we are treating. These are copied from CERNER. They obviously look different in different EMRs.
The main advantage is that we do not have to search for each order when we need to order a bunch of orders. Just open the group of orders and click quickly and sign.
I will keep updating it as and when I get time.
ADD ONs
AM LABS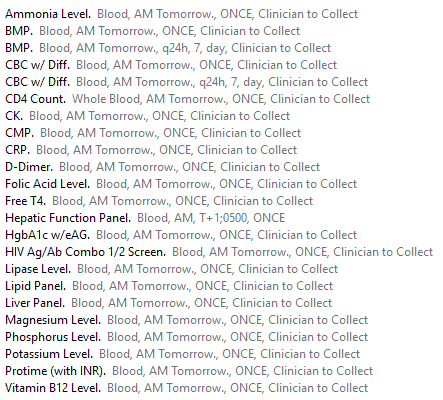 ANAPHYLAXIS
ANXIETY/AGITATION/DELIRIUM
BACK PAIN
CONTIPATION
COUGH
DIARRHEA
DIET
DRIPS
DRUG RASH
ELECTROLYTES
Ca and P issues
HYPERKALEMIA
HYPOKALEMIA
HYPOMAGNESEMIA
HYPONATREMIA
HYPOPHOSPHATEMIA
EYE DROPS
HTN UNCONTROLLED
IMAGING
INSOMNIA
ITCHING
IV FLUIDS
NAUSEA
PAIN MEDS
PEG TUBE
PICC
PRECAUTIONS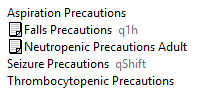 PREMEDICATION FOR CONTRAST ALLERGY

PRN ORDERS
ROUTINE ORDERS
RRT OR CODE SITUATION
SHORTNESS OF BREATH
STAT ORDERS
STUFFY NOSE

WARFARIN
CARDIOLOGY
AFIB WITH RVR
CHEST PAIN
CHF
DIZZINESS OR SYNCOPE
ENDOCRINOLOGY
PITUITARY MACROADENOMA
HYPERALDOSTERONISM

ALCOHOL WITHDRAWAL

GASTROENTEROLOGY
ELEVATED LFTs
GERD
GI BLEEDING

HEPATIC ENCEPHALOPATHY
NG TUBE
PANCREATITIS
GERIATRICS
HEMATOLOGY / ONCOLOGY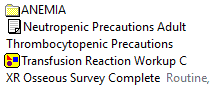 ANEMIA
HOSPICE
INFECTIOUS DISEASES
ANTIBIOTICS
ANTIFUNGAL
COVID INFECTION
NEEDLE STICK
PANCULTURE
SEPSIS -usually an order set is available for the rest of the orders.
STDs

STOOL STUDIES
TICK BORN DISEASES
URINE STUDIES
NEPHROLOGY

AKI
CKD
NEUROLOGY
BELLS PALSY
MULTIPLE SCLEROSIS

POST HERPETIC NEURALGIA
PREGNANCY -some medications that can be used

As you can see I only included the most common orders that we use repeatedly. Some are redundant as they are present in order sets and some are probably not even the choices that you ever use. This is my attempt to give an idea as to how I saved my favorites so that I can find or recall some of these orders when I forget. Hope this page helps someone out there who needs it.
Visits: 1739