Do you want two screens for your computer that you use at home?
Dual monitors are very useful to do multiple things at one time or to make your work more efficient. It is extremely helpful if you do utilization reviews.
Which Monitors Should You Choose?
First look around in your house if you have an old monitor that you are not using. This is how I found my Dell monitor that I now use as my second screen.
There are many ways to connect a second monitor to your existing computer. It can be done via an HDMI cable
, DisplayPort cable, or a VGA cable for older models.
1. HDMI cable:
2. Display Port Cable:
3. VGA cable:
Check at the back of your current computer that you use and see which one can be used to connect an other screen to your computer. Not all the ports types for above cable types are present in all the computers. I used VGA cable to connect my two screens.
If your second monitor does not have the same port as the one you have on primary computer, you can use adapter to connect.
HDMI to VGA Cable 3FT, Uni-Directional Computer HDMI to VGA Monitor: This is usually helpful to connect laptop to a monitor.
Buy a second monitor if you already do not have a spare monitor at home.
Connect the new monitor to your computer with one of the above cables.
Then, Right-click on your desktop and select Display Settings from the drop down menu.
With two monitors plugged in, the Display Settings page will detect both monitors and represent them by showing two boxes labeled "1" and "2" as shown below.
If the second monitor doesn't appear in the above box, click the Detect button at the bottom right of the pic above to get the computer to identify both monitors.
Once both monitors are detected, you can configure the settings for each monitor as below.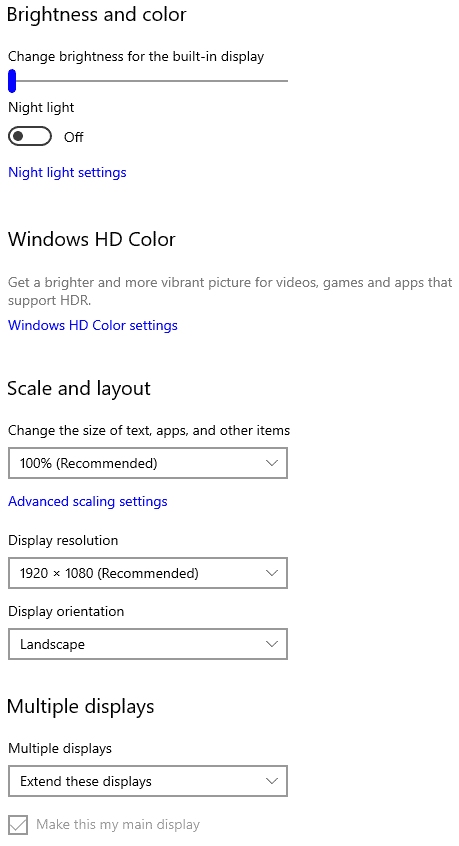 Read Set up dual monitors on Windows from Microsoft for more information.
Laptops: Most laptops come with display outputs for one additional display.
If you are not sure, go to YouTube and search for videos about ways to setting up dual monitors for the kind of computer you use at home.

Disclosure: Links contain affiliates. When you buy through one of our links we will receive a commission. This is at no cost to you. Thank you for supporting me and allowing me to continue to bring you valuable content.
Visits: 763