What Are the Basics? Putting the Pieces of the Puzzle Together!
The most common statement that I hear is "I want to be a Physician Advisor, but how do I get the training?" In my mind there are several choices:
Formal training – there are many courses given but there are very few complete all-inclusive programs available.
Self-Training – One could take direction of trying to accomplish this on their own, but to be honest, you don't know what you don't know. And that's understandable. This is not something that we have had included in our training. We learned how to take care of patients. We have a hard time understanding the difference between Inpatient, Observation, and Outpatient.

We are also not trained well on good documentation – an entirely separate complex topic

On the Job Training – Sadly, this really doesn't work unless you have access to a seasoned Physician Advisor who also has the time to train, not just teach, but train.
Looks like I am being somewhat negative. The reality is that the answer is a combination of all three, and it can be done. There are several organizations that provide some degree of training and 'learning on the job' can all play a role. In a book that I wrote on becoming successful, I encourage the use of a mentor. "Find someone who has done what you want to do and do what they did". A "mentor" can be different than a "trainer". There are also many valuable blogs on this site that can help give direction.
In the remaining space of this blog I would like to spend a little time giving some advice on what a Physician Advisor (PA) needs to know from a Medicare FFS (MCR) regulatory point of view. Doing cases, as it is sometimes called, should occupy about 40-60% of the time of a PA, while the other 40-60% of the time is spent on other specialized activities. I want to share what the PA should know and understand about the Utilization Review process and the regulations that govern it. The Commercial payers may have their own rules but following MCR as a benchmark and standard is extremely helpful. Also, I will present other qualities that a PA should have or acquire.
Let's start with the qualities first:
A medical background such as Internal Medicine, Family Practice, hospitalist, ED, and others are suggested. That is not to say that a neurosurgeon cannot become a PA, but the learning curve is much higher.
Should come from an Inpatient background and have at least 5 years of clinical experience.
There may be positions where you will be required to re-locate, keep that in mind.
Having a basic background on hospital functions and utilization management is a plus.
Personable, good communicator, skilled at building interpersonal relationships.
Skills as a coach, facilitator, presenter.
Ability to integrate with other physicians, executives, and others and learn the "culture" of the facility.
Knowledge that you will need as these are essential skills that must be present and others that must be learned through training. Complete training is challenging to acquire and acknowledging there will be a certain degree of "on the job" learning.
This is a non-inclusive list of these essential skills:
Knowledge of how Utilization Review functions

A first level review is done by the UR Staff utilizing commercial criteria, such as InterQual or Milliman Care Guidelines – there are non-physician criteria, knowledge of them is helpful but not required.

A second level review is typically done by a PA utilizing evidence-based criteria realizing risks to the patient and concerns of the admitting physician.

Understanding the differences between Inpatient [IP] and Observation and Outpatient.
If from another specialty, will need training or proof to help with medical background knowledge.
Understand the difference between the Inpatient Prospective Payment System (IPPS) and the Outpatient Prospective Payment System (OPPS).
Knowledge in Utilization Management, Regulations, Compliance, Quality, and Clinical core competencies.

Conditions of Participation (CoP) – can be gotten from the internet

§ 482.30 – Condition of participation: Utilization review.
Condition Code 44 vs. Condition Code W2
With Condition Code 44, in cases where a beneficiary's status is changed from inpatient to outpatient subsequent to UR determination that the inpatient admission does not meet the hospital's inpatient criteria, the hospital may submit an outpatient claim (Type of Bills 13x, 85x) to receive payment for medically necessary Medicare Part B services that were furnished to the beneficiary, provided all of the following conditions are met:
The change in patient status from inpatient to outpatient is made prior to discharge or release, while the beneficiary is still a patient of the hospital;
The hospital has not submitted a claim to Medicare for the inpatient admission;
A physician concurs with the utilization review committee's decision; and
The physician's concurrence is documented in the patient's medical record.
As background, in the 2014 Inpatient Prospective Payment System (IPPS) final rule, CMS gave hospitals the ability to self-deny an inappropriate inpatient admission under the CoP for UR and then rebill all eligible services provided during the hospital stay under inpatient Part B (Type of Bill (TOB) 12X), with a companion outpatient bill for the outpatient services prior to the order (TOB 13X) (CMS, IPPS final rule, 2014).
When a review of an admission determines that a Medicare patient didn't meet inpatient criteria and the patient has already gone home, negating the use of CC44, hospitals now have a way to be reimbursed for diagnostic and therapeutic services.
The Centers for Medicare & Medicaid Services' Inpatient Prospective Payment System (IPPS) final rule for fiscal year 2014 did allow hospitals to file a provider liable claim using Condition Code W2 if the hospital performs a self-audit and makes a post-discharge determination that a patient stay wasn't medically necessary. Similar to condition code 44 (described below), in order to apply condition code W2, the process first begins with a determination by a physician representative of the utilization review committee. This may be facilitated by a utilization review nurse or case manager. The determination should be documented either in the UR committee's records or in the medical record of the patient.
Keep in mind, with Condition Code W2, that the patient's status remains inpatient, even though the care is billed for Part B payment.
The difference in timing requirements makes the condition code W2 process less resource-intensive than the condition code 44 process. To consistently meet the requirements for using condition code 44, hospitals need to coordinate with the UR physician and the attending physician, then provide notice to the patient in a short period of time before the patient is discharged—which can be quite resource intensive. With condition code W2, hospitals continue to do concurrent review, but can coordinate between the physicians and provide notice to the patient in an efficient and planned manner after the patient's discharge. Multiple determinations can be completed at weekly, biweekly, or monthly meetings in a short period of time. See Figure 1.1 for more information.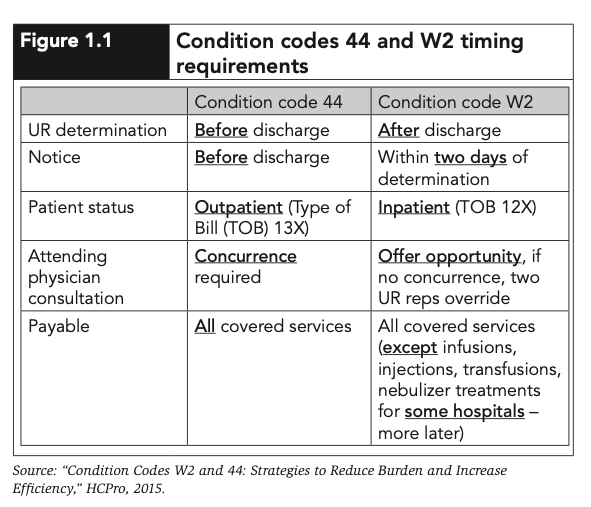 Basic Billing Principles, including financial burdens to the Medicare Beneficiary

Understanding the difference between Part A and Part B payment
2020 costs at a glance:
Benefit Period
A benefit period begins the day you are admitted to a hospital as an inpatient, or to a SNF, and ends the day you have been out of the hospital or SNF for 60 days in a row. After you meet your deductible, Original Medicare pays in full for days 1 to 60 that you are in a hospital.
Part A hospital inpatient deductible and coinsurance
You pay: $1,408 deductible for each benefit period Days 1-60: $0 coinsurance for each benefit period Days 61-90: $352 coinsurance per day of each benefit period Days 91 and beyond: $704 coinsurance per each "lifetime reserve day" after day 90 for each benefit period (up to 60 days over your lifetime) Beyond lifetime reserve days: all costs Definition: Original Medicare covers up to 90 days of inpatient hospital care each benefit period. You also have an additional 60 days of coverage, called lifetime reserve days. These 60 days can be used only once, and you will pay a coinsurance for each one ($704 per day in 2020).
Part B premium
The standard Part B premium amount is $144.60 (or higher depending on your income).
Part B deductible and coinsurance
$198. After your deductible is met, you typically pay 20% of the Medicare-approved amount for most doctor services (including most doctor services while you're a hospital inpatient), outpatient therapy, and durable medical equipment (DME) and 100% of all non-covered services
Core competency in standards of documentation and communication of patient care
Suffice it to say, there is a lot of information presented here, much of which may be challenging to learn and understand. But these are necessary to be a good PA. I have trained and mentored many PA's in the past.
If you have questions please feel free to reach out to John Zelem, MD at:
john@streamlinesolutionsconsulting.com
www.streamlinesolutionsconsulting.com