1. Remove ads while watching YouTube videos: If you do not like to see any ads while watching YouTube videos on your phone, download an app called BRAVE. This is a browser. Watch YouTube videos in that browser without any ads.
2. Turn ON flashligh by tapping twice on the back of your iPhone: Go to Settings–>Accessibility–>Touch–> Back Tap–>choose Double tap–>Choose Flashlight or any other listed options that you like.
This is helpful when you want more light to see your patient's wound or ear or nose.
3. Turn off Flashlight easily: If you accidentally turn on your flashlight on your iPhone, just swipe your home screen to the left a little bit and flashlight will turn off.
4. Make your iPhone mute for a specific group message: If you are getting multiple alerts on your iMessage while you are with a patient, touch on your message for a couple of seconds and a drop-down menu appears which has options Pin and Hide Alerts. You can choose hide alerts to keep your phone calm with new messages in this group and you can also choose pin to save this conversation on the top.
5. Measure wound size with iPhone: iPhone has an app called Measure. If you need to measure wound size, simply open that app and keep it at a distance from the wound so that a circle with cental dot appears in that app. Point that dot at one end of the wound and tap on + sign on the screen. Move the camera so the white dot is on the other end of the wound and tap on + sign again. It shows the distance between those two points thereby the size of the wound.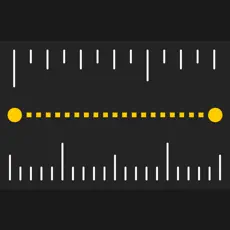 6. Text your friend just the flight number to access complete flight info when you travel: If you are travelling and you need to send your flight info to your friend who picks you up at the destination, simply text the flight number in iMessage. When your friend clicks on the flight number in his iMessage, it will give the complete info about that flight including cities between which it is flying, arrival time, duration of light, status of flight if there is a delay etc.
7. Bring up your iPhone's unique ID number quickly: Open your Phone app and type *#06# and it will bring up all the important ID numbers for your iPhone. Take a screen shot and email it to you so if you lose phone this info may be helpful. This can also be useful when you buy a new phone to activate your sim with your service provider.
8. Measure heart rate with your iPhone: Down the free app HealthPulse. Put your finger on the flashlight as it glows after your open the app. It will immediately show the HR. This is probably useful when we are working in Med-Surg floor and we need HR immediately.
9. Know the price of anything instantly by using google app: Download Google app.
Open the app and tap on the google lens pic to the right of the search space bar. It will open your camera. Just take a pic with that and immediately, it will show the item online and it's price. This is useful if you notice some good instrument at work and you want to buy after knowing it's price.
10. Shortcut for commonly used phrases: You can make shortcuts for a number of commonly used phrases. Settings–>General–>Keyboard–>Text Replacement–>Click on Plus sign on top right and a Phrase with a single word shortcut below it to bring up the phrase upon typing the shortcut anytime.
Our Tiger text gives only 5 options. This method can help you add more shortcuts to phrases.